Mother's Day is just around the corner, friends! Now more than ever, it's important to show our beloved Mamas how much we care. Luckily, Avon just came out with a whole host of limited-edition specials to help you treat her to a little something extra. From that larger collection, I've chosen the top five Mother's Day makeup gifts that I think your beauty-loving mom will love!
These selections are fun, whimsical, and practical all at the same time. But, enough chit-chat – I know what you really came here to do is look at the list!
Let's take a look at the 5 fabulous makeup gift options you NEED for Mom this year . . .
#1 Nesting Beauty Color Palette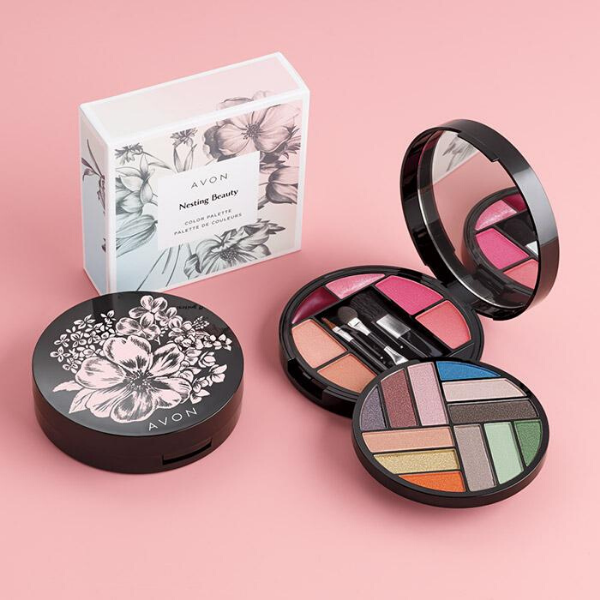 The curious & experimental Mom
This charming palette has two tiers, so there's a lot of room to play! The color choices feature matte and shimmer finishes, so Mom can really customize her look according to her mood. In addition, this palette comes in a cute, whimsical package that is totally portable.
FEATURES
➤ 12 Eye colors
➤ 4 Cheek colors
➤ 2 Lip colors
➤ Lip, cheek and eyeshadow applicators
➤ Mirror
Is your mom young at heart? Then, she deserves a lipstick to match! These satin lipsticks are perfect for a stunning bold lip that she will LOVE. Not to mention, the tube has a limited-edition floral design that makes the gift extra special.
FEATURES
➤ Beautiful, satin-like finish
➤ Buildable coverage
GET YOUR EXCLUSIVE COUPON!
Subscribe to my email newsletter, and save money on your online Avon order! You'll get access to an exclusive coupon code just for my new subscribers (U.S. only). Get to the sign up page using this button:
#3 Blushing Beauty Powder Blush
The classic & nostalgic Mom
Boy, does that powder puff bring back memories! If your Mom loves all things vintage-style, she will love the Blushing Beauty Powder Blush. This blush features an elegant soft matte finish, and comes in a limited-edition floral package.
FEATURES
➤ Lightweight powder formula
➤ Soft matte finish
➤ Poof applicator
#4 Give 'em Tude Mattitude Gift Set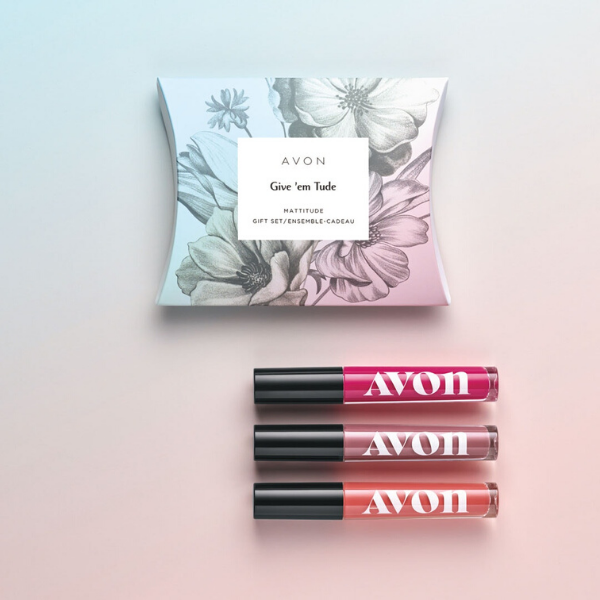 The inclusive & affectionate Mom
These 3 brand new shades of Mattitude are as cheerful and friendly as your Mom's heart! Folks can get the full trio in one gift set, all with cute floral packaging that you don't even have to wrap.
Shades include:
➤ Rebel (Pink)
➤ Remarkable (Red)
➤ Respect (Nude)
#5 Pretty Polished Gel Nail Enamel
The fearless & driven Mom
If your Mom likes a bold nail, she will love these new limited-edition nail enamels. Each bottle features high-shine nail lacquer that also strengthens the nails. It's available in three gorgeous shades, including Enchanting Fig, Watermelon Kiss, and Strawberry Pop.
FEATURES
➤ High-shine gel formula
What do you think of these options for Mother's Day makeup gifts? What are you getting your Mom this year? Let us know in the comments below!
GET YOUR EXCLUSIVE COUPON!
Subscribe to my email newsletter, and save money on your online Avon order! You'll get access to an exclusive coupon code just for my new subscribers (U.S. only). Get to the sign up page using this button: