UPDATE: ALL VARIATIONS OF TRUE COLOR LIPSTICK ARE BEING DISCONTINUED AS OF FEB 16, 2021.
If you have any peripheral knowledge at all about Avon makeup, you've definitely seen a tube of True Color Lipstick. It's a product so classic that I sometimes don't even notice how often I'm using it. I reach for it on days when I'm not feeling very experimental – when I need something tried-and-true that looks good without much thought or effort. So far, it hasn't let me down!
Because of True Color's classic, ubiquitous nature – I find that a lot of customers come to the realization that they don't understand the product specifics, nor the difference between the three different types (or four, before "Bold" was discontinued). They just never really thought about it – and suddenly get curious. If you're one of those people, you've come to the right place!
Below, you'll find everything you need to know about this fan-favorite Lipstick line. Let's dig in!
What is Avon True Color Lipstick?
Avon True Color Lipstick is a popular collection of Lipsticks by Avon that utilizes True Color Technology. This basically means that there is less guesswork when it comes to how the lipstick will look on your lips. Here is how Avon explains the concept:
"AVON TRUE COLOR means the color you buy is the color you apply. Now all your favorite lipsticks, glosses, eyeshadows and nail enamel have Avon's acclaimed TRUE COLOR technology, designed to give you the natural flawless look you want… nothing less. Rich pigments are blended into our high-quality formulas for guaranteed color that stays true all day.

FUSS-FREE, FAIL-FREE MAKEUP THAT LOOKS AND PERFORMS THE WAY YOU EXPECT IT TO. THAT'S THE AVON TRUE COLOR PROMISE."
What are the different types of True Color Lipstick?
There are two different types, including the original (True Color Lipstick) and True Color Nourishing Lipstick. If you think you remember there being more – you're not wrong! True Color Bold Lipstick was discontinued back in 2019, and True Color Perfectly Matte Lipstick was discontinued in 2020.
UPDATE: this article has been edited to reflect the discontinuation of True Color Perfectly Matte Lipstick, which was originally featured in the article.
Let's take a closer look at the similarities and differences between each type!
GET YOUR EXCLUSIVE COUPON!
Subscribe to my email newsletter, and save money on your online Avon order! You'll get access to an exclusive coupon code just for my new subscribers (U.S. only). Get to the sign up page using this button:
UPDATE: TRUE COLOR LIPSTICK IS BEING DISCONTINUED AS OF FEB 16, 2021.
The original formula used to come in over 40 shades! Over time, less popular shades have been discontinued – leaving 26 of the most gorgeous colors to choose from. It doesn't have quite the same moisturizing power as the Nourishing Lipstick, but it's still pretty darn nourishing!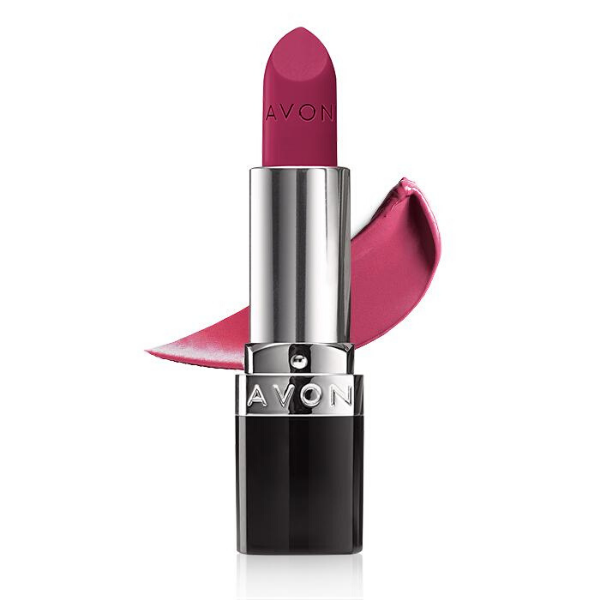 FINISH
➤ Choice of Satin or Shimmer
UNIQUE FEATURES
➤ Formulated with Shea Butter, Omega-6, Sunflower Seed Oil and vitamin E
ADDITIONAL FEATURES
➤ Full coverage with True Color Technology
➤ High-impact color
➤ Conditions and moisturizes lips
➤ Designed for every skin tone
➤ Paraben-free
➤ Sulfate-free
➤ Talc-free
Blush Nude, Hot Pink, Wine With Everything, Vamp, Cherry Jubilee, Wineberry, Rosewine, Toasted Rose, Rosedew, Cashmere, Buttered Rum, Deluxe Chocolate, Naturally Nude
Berry Berry Nice, Silky Peach, Country Rose, Pink Dream, Twinkle Pink, Cozy Mauve, Frostiest Mauve, Golden Berry, Sparkling Mauve, Bronze Treasure, Iced Cocoa, Canela Nacar, Sparkling Nude
UPDATE: TRUE COLOR NOURISHING LIPSTICK IS BEING DISCONTINUED AS OF FEB 16, 2021.
The Nourishing Lipstick was added in 2017. In addition to providing a high-impact color payoff, it is also designed to moisturize and promote lip health.
FINISH
➤ Creamy Satin finish
UNIQUE FEATURES
➤ Plumps and softens lips
➤ Infused with marine collagen and jojoba oil
ADDITIONAL FEATURES
➤ True Color Technology
➤ High-impact Color
➤ Creamy feel
➤ 100% improvement in lip health and dryness in just 2 weeks
➤ Keeps lips feeling nourished and conditioned even after you take it off
➤ Full, even and lasting coverage
➤ Paraben-free
➤ Sulfate-free
➤ Talc-free
Lychee Pink, Roasted Chesnut, Toasted Cashew, Peach Nectar, Raspberry Rose, Dragonfruit Blush, Blood Orange, Sparkling Rose, Rich Cognac, Black Cherry, Persimmon Pink, Red Delicious, Delicate Date, Concord Grape, Peony Blush, Spring Lilac, Brown Sugar, Mellow Melon, Candy Red
Well, there you have it! I hope you have a better grasp now on all things True Color. Do you use these lipsticks yourself? Let us know your favorite shade in the comments below!
GET YOUR EXCLUSIVE COUPON!
Subscribe to my email newsletter, and save money on your online Avon order! You'll get access to an exclusive coupon code just for my new subscribers (U.S. only). Get to the sign up page using this button: