When I first saw the ad for Avon's new Mattitude Liquid Lipstick, I was nervous but intrigued. After deciding that my lips are just too darn sensitive for the Lip Tattoo product I recently tried, a lip color void was left in my life. Specifically – the perfect long-lasting lip color that will match the dress I'm wearing to my favorite cousin's wedding this October!
Could the Mattitude Liquid Lipstick in "Persistent" fit the bill without fading too fast or drying out my lips? There was only one way to find out! Let's see how it went . . .
What is Mattitude Liquid Lipstick?
According to Avon, this product is a "soft matte liquid lip that comfortably coats your pout with a weightless wash of high-impact, super-saturated color". It's made with micronized pigments, which basically means the particles are so tiny that the color is that much more saturated. A little bit goes a long way!
As the name suggests, this liquid lipstick dries with a velvety, matte finish.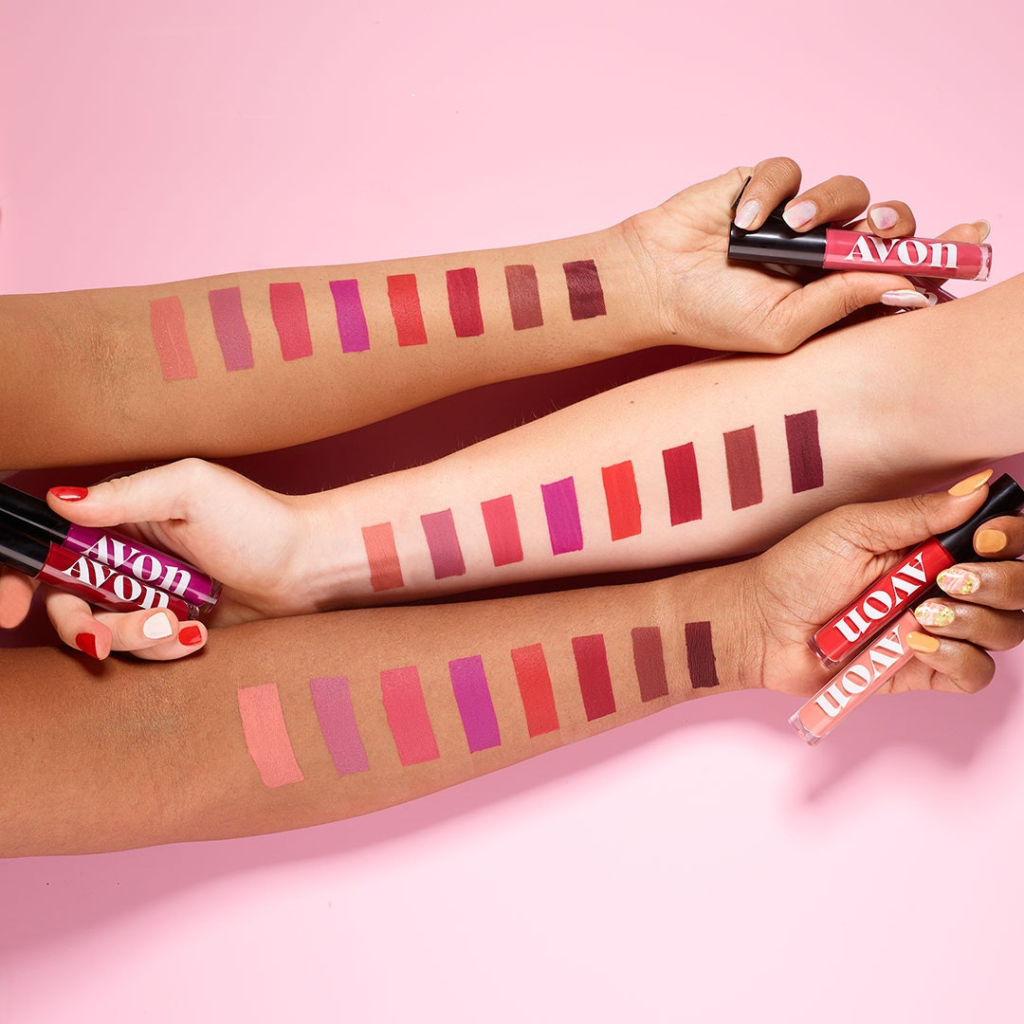 Advertised benefits include:
➤ Featherlight, non-drying formula that lasts for hours
➤ Micronized pigments release rich, vivid color on impact
➤ Poppy seed oil and vitamin E nourish and smooth lips
➤ Paraben-, sulfate- and phthalate-free
GET YOUR EXCLUSIVE COUPON!
Subscribe to my email newsletter, and save money on your online Avon order! You'll get access to an exclusive coupon code just for my new subscribers (U.S. only). Get to the sign up page using this button:
What are the different shades of Mattitude?
Mattitude is available in 8 shades including Relentless, Persistent, Resilient, Devoted, Driven, Resolute, Tenacious, and Ambitious.
Click the below video to see "Persistent" in action.
The Mattitude Liquid Lipstick was pretty easy to apply. It comes with a doe foot applicator for easy coverage. The tricky part for me was getting the edges even. My hands are not the most coordinated, which is easier to hide with colors that are not so deep and saturated!
I found the matte finish on this product to be absolutely beautiful! It really blew me away. The color looks really even and vibrant, but the bold matte didn't make me feel nervous or self-conscious like my usual introvert self. Instead, I felt powerful and confident!
One thing to be careful of is getting this product on your teeth. Even if you know all the tricks, you will probably be in the bathroom for SEVERAL minutes applying them. I must have used the index finger trick about 5 times before I finally got all the excess product off. However, once I got it off and let the lipstick dry, I didn't have any more teeth problems for the rest of the day.
Guys. This liquid lipstick LASTS. It was like everything I had hoped the Lip Tattoo would be, without the sensitivity issues. This product looked amazing on me for several hours.
Here are some photos to give you a sense of the wear. I did not reapply the lipstick at any point. I wanted to really put it to the test!
4 hours, 1 meal, and 1 cup of coffee later:
6 hours, 2 meals, 1 cup of coffee, and 1 glass of water later:
As you can see, it took 6 hours for the Mattitude Liquid Lipstick to start to wear and get a little dry. Even with the slight wear, the majority of my lips here still look pretty dark – a quick fix if I had wanted to keep the evening going! Amazing, right?
One thing to watch out for is slight color bleeding during a meal. This probably wouldn't have happened if I had put on a lip liner, but alas. I simply wiped the edges, and after that you couldn't even tell the difference.
Sensitive Lips Compatible?
As I've mentioned in previous posts, my lips are SUPER sensitive. That's why this lipstick was a startling and pleasant surprise.
Since it has a matte finish, I was a little nervous that my lips would get dry and chapped fast. As you can see above, the chapping was minimal even after 6 hours. This is much better than all the non-matte stick lipsticks I have tried, where my lips chap after about 30 minutes to an hour.
All in all, I was much happier with this product than I expected to be! In fact – I'm a little obsessed with it, and might have to order a few more colors. "Persistent" is currently my go-to bold lip.
Have any of you tried out Mattitude yet? Let us know how you like it in the comments below!
GET YOUR EXCLUSIVE COUPON!
Subscribe to my email newsletter, and save money on your online Avon order! You'll get access to an exclusive coupon code just for my new subscribers (U.S. only). Get to the sign up page using this button: