My True Color Eyeshadow Quad has been a staple in my makeup bag for quite some time now. So long, in fact, that I can't believe I haven't written about it sooner! There is just something about it's simple consistency that keeps me returning to it again and again. It's what I reach for when I need something that is guaranteed to look great all day – when I have no time for experimentation!
If you're looking to get the full skinny on these classic palettes, you've come to the right place! Without further ado, here is your one-stop resource for Avon's True Color Eyeshadow line. Let's take a look!
What is True Color Eyeshadow?
True Color eyeshadow is a collection of colorful vegan eyeshadow quads by Avon. These palettes are part of a larger line of True Color makeup products including liners, lipsticks, mascaras, foundations, and more.
Each product in the line features True Color Technology, which basically means that the color you see on the product is the color you apply – no surprises!
Advertised Benefits include:
➤ Color saturated shades
➤ Designed for every skin tone
➤ Vegan
➤ Crease-proof
➤ Numbered shades
➤ Paraben-free, sulfate-free
➤ Convenient mirrored compact
What do the numbers on the eyeshadow quads mean?
The numbers on each True Color Eyeshadow quad correspond to the different application locations Avon recommends for a beginner eye look. To achieve the look, they should be applied in numerical order.
First: The lightest shade (1) goes on the brow bone
Second: The accent shade (2) goes in the inner corner
Third: The Medium shade (3) goes in the outer corner
Fourth: The darkest shade (4) goes on the lash lines
Of course, the shadows also look great in other combinations too! If you're a more advanced makeup wearer, you can easily create your own looks with True Color.
GET YOUR EXCLUSIVE COUPON!
Subscribe to my email newsletter, and save money on your online Avon order! You'll get access to an exclusive coupon code just for my new subscribers (U.S. only). Get to the sign up page using this button:
What are the different types of True Color Eyeshadow?
UPDATE: All varieties of True Color eyeshadow are discontinued as of 6/10/21, while supplies last.
There are currently two different varieties of True Color Eyeshadow, including the Matte Eyeshadow Quad and the Multi-finish Eyeshadow Quad. (Unfortunately, theTrue Color Eyeshadow Single, Eyeshadow Duo and 8-in-1 Eyeshadow Palette are long discontinued). Let's take a look at our current choices:
This palette is pretty much what it sounds like! The Matte Eyeshadow Quad is the ideal choice for folks who want a pop of vibrant color with a gorgeous matte finish. In addition, these quads are all dermatologist tested and allergy-tested. This product has limited color choices compared to the other True Color Eyeshadows, but it makes up for it with choices that are extra fun and bright!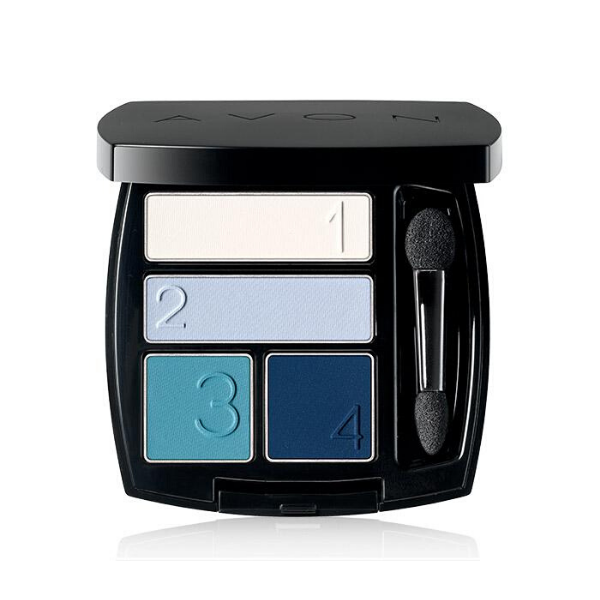 The Matte quad is available in two color palettes including Tranquility and On The Vine.
#2 Multi-Finish Eyeshadow Quad
Each Multi-Finish Eyeshadow Quad contains a mixture of matte and shimmer shades. This product has a wider range of color choices that includes both neutral and colorful options.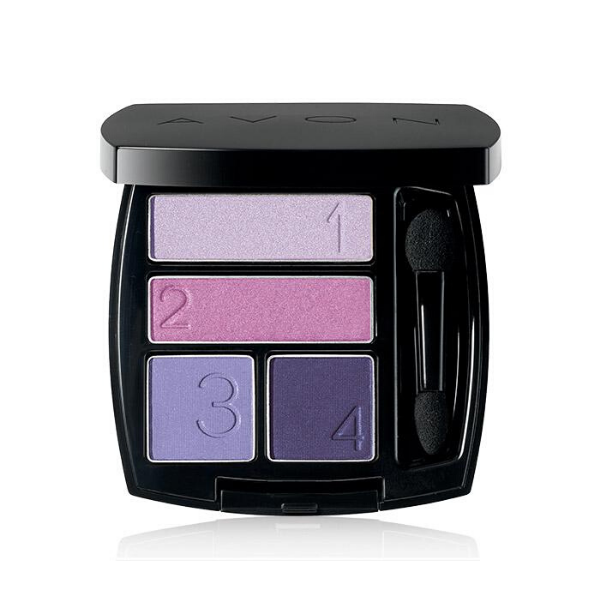 The Multi-finish quad is available in 10 color palettes including Naked Truth, Warm Sunrise, Mocha Latte, Urban Skyline, Steel Blues, Romantic Mauves, Purple Haze, Purple Pop, Chocolate Sensation, and Berry Love.
Well, there you have it! That's all you need to know Avon's classic True Color Eyeshadows. Which shades will you try first? Let us know in the comments below!
GET YOUR EXCLUSIVE COUPON!
Subscribe to my email newsletter, and save money on your online Avon order! You'll get access to an exclusive coupon code just for my new subscribers (U.S. only). Get to the sign up page using this button: