Confession time: Before the advertisement for Hi-Brow Sculpting Gel caught my eye, I never really bothered adding a consistent eyebrow product to my makeup routine. It's always been important to me to rock a natural brow, and as a result I'm very picky about what products go near my eyebrow region. Nothing quite made the cut.
When I saw that Hi-Brow was a gel product rather than a pencil, I was immediately intrigued. It struck me as something I could actually use, provided that the quality was up to snuff! I was looking for something to really keep my eyebrow hairs in place, without creating a shape that looks artificially sharp.
Could this new sculpting gel be the product I've been dreaming of? There was only one way to find out! Keep reading to find out what happened when I tried out Hi-Brow Sculpting Gel for myself. But first, some background . . .
What is Hi-Brow Sculpting Gel?
Hi-Brow Sculpting Gel is a new eyebrow gel by Avon launching on May 27th, 2020. It's designed to fill and shape the wearer's existing eyebrows for a full, natural look. Hi-brow boasts a water resistant formula that offers 24 hours of wear time for stay-put brows.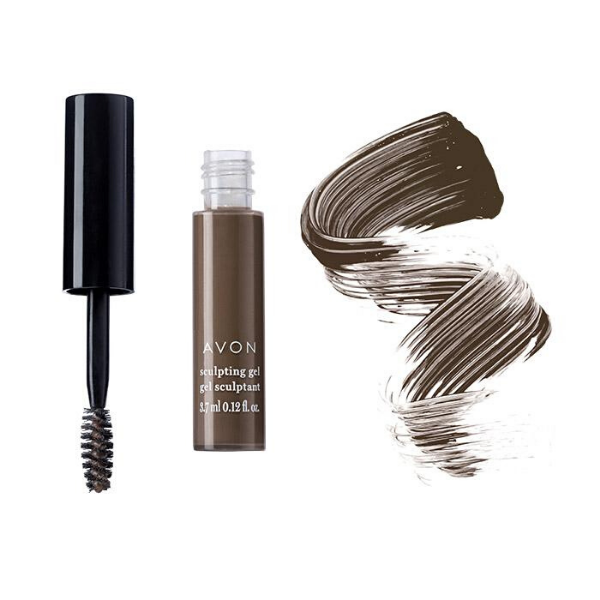 UPDATE 4/27/22: Hi-Brow has been re-branded as of 4/27/22. Parts of this article still reflect the old name as originally written. The formula remains the same. The product is now known as fmg Colors of Love Hi-Brow Tinted Brow Gel, except for the clear shade which is known as fmg Colors of Love Hi-Brow Sculpting Brow Gel.
Advertised benefits include:
➤ Smudge-proof, flake-proof, & water-resistant
➤ Amps up the natural color of your brows
➤ Creates a fuller brow look
➤ Tapered micro-brush provides precise, buildable, no-mess application
➤ Soft matte finish
➤ Oil-controlling clay
➤ Nourishing safflower seed oil
➤ Vitamin E
➤ Kiwi extract
GET YOUR EXCLUSIVE COUPON!
Subscribe to my email newsletter, and save money on your online Avon order! You'll get access to an exclusive coupon code just for my new subscribers (U.S. only). Get to the sign up page using this button:
UPDATE 4/27/22: A new clear shade has been added as of 4/27/22. The following shade chart has been edited to reflect the change.
What are the Hi-Brow shades?
Hi-brow Sculpting Gel comes in 5 different shades including Brown Black, Medium Brown, Soft Brown, and Blonde, and Clear.
Check out the video below to see how it went when I tried Hi-Brow Sculpting Gel in "Black Brown".
Application was a little trickier than expected. As you can see in the video, I had a hard time avoiding clumps and areas of build-up using just the micro-brush. This kept happening no matter how much I tried to wipe the excess product off the brush before applying. I will say though, making adjustments with my finger was surprisingly quick and easy. With some other products, I've found that trying to wipe with the finger causes unfortunate mess-ups and smudging. However, this did not happen with Hi-Brow. I simply wiped gently with my fingers, and my brows looked perfect!
The finish of this product was exactly what I hoped it would be! I wasn't looking for anything too bold or intense – so if you like a super precise brow, this may not be for you. What I was looking for was a subtle enhancement of my natural eyebrows, while making the hairs stay in place. That's exactly what I got!
My brows looked totally natural! I personally didn't notice much of a color change, though a housemate did mention that my eyebrows looked a little bit darker. I think the best way to think about the finish is like it's a mascara for the brows. It defined the brow in a subtle way, and there is a stiffness to the formula that really controls the hairs.
I was pretty impressed with the staying power of Hi-Brow. By the time I went to bed, I had been wearing this product for about 8 hours. My eyebrows looked exactly the same as they had when I first applied the product. No movement at all! I was really amazed and excited!
I also found Hi-brow to be extremely comfortable. Most of the time, I forgot I was wearing anything on my brows. There were several time that I caught myself absent-mindedly wiping my eye area (spring allergies have been doing a number on my eyelids!) and would then think – "Oh no, I forgot I was wearing my brow gel!" It just feels so weightless that I didn't even hesitate. This did not affect anything, however – as I mentioned above, my brow hairs DID. NOT. BUDGE.
Overall, I really like Hi-Brow and can see myself wearing it on most days. It's so nice not to have to think about what those pesky brow hairs are doing up there. It's great peace of mind for both casual and elegant days – and even more useful for stage makeup!
Are you interested in trying out Hi-Brow Sculpting Gel, too? What are you looking for in your ideal eyebrow product? Let us know in the comments below!
GET YOUR EXCLUSIVE COUPON!
Subscribe to my email newsletter, and save money on your online Avon order! You'll get access to an exclusive coupon code just for my new subscribers (U.S. only). Get to the sign up page using this button: