Are you getting pumped about Avon's exciting new summer makeup launches? I am too! Last week I talked about the face – but this week it's all about the eyes.
Our latest summer eyeshadow palette is almost here, and it's a game-changer for the Avon catalog. Why? You'll have to read on to find out. This new palette is launching as part of out Colors of Love collection. Let's jump in with a little background!
What is the Colors of Love Summer Eyeshadow Palette?
The FMG Colors of Love Summer Eyeshadow Palette is a new high-end eyeshadow palette by Avon launching on May 26, 2021.
Designed specifically for summer makeup looks, this palette features 12 luscious shades in a mix of shimmer and soft matte finishes. This eyeshadow is part of the larger Colors of Love collection, which was first introduced in 2020 and includes a variety of summer makeup products (including bronzers, highlighters, and more).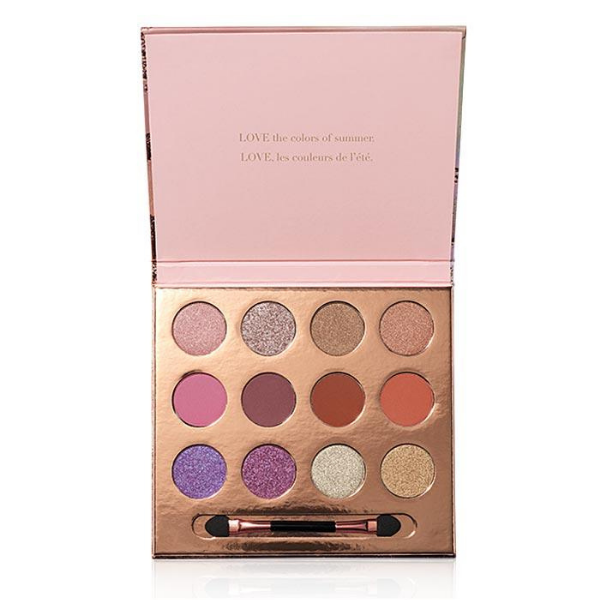 ADVERTISED BENEFITS INCLUDE:
➤ Buildable, creamy color
➤ Blends seamlessly
➤ Long-lasting
➤ Featherlight feel
➤ Palette includes 12 shades
➤ Mix of pearly shimmer and soft matte finishes
➤ With antioxidant vitamin E
➤ Includes applicator
➤ Talc-free
GET YOUR EXCLUSIVE COUPON!
Subscribe to my email newsletter, and save money on your online Avon order! You'll get access to an exclusive coupon code just for my new subscribers (U.S. only). Get to the sign up page using this button:
Who will love this palette?
The Summer Makeup Palette is perfect for Avon makeup fans looking to upgrade to a more luxurious eyeshadow experience. Though the price is slightly higher than a typical Avon palette, this product combines Avon's focus on skin nourishment with on-trend shades that will elevate your makeup look. It really is next level!
With a variety of 12 cohesive shades, this palette will surely support an entire summer's worth of eyeshadow looks. Unlike similar palettes from other brands, Colors of Love does not narrow it's focus to one portion of the color wheel – a practice which results in bold, experimental eye looks. Rather – this palette is designed for the everyday woman who wants to add a little oomph to their basic eye makeup.
What do you think? Will Avon's new Summer Makeup Palette be the perfect touch for you summer makeup looks? Let us know in the comments!
GET YOUR EXCLUSIVE COUPON!
Subscribe to my email newsletter, and save money on your online Avon order! You'll get access to an exclusive coupon code just for my new subscribers (U.S. only). Get to the sign up page using this button: