Looking to compare Avon's liquid liners? I get a lot of questions about this topic, but up until now I've been pretty loyal to my SuperExtend Precise Liquid Pen. Why? I'm embarrassed to say – the answer is habit. When I realized another year had passed and I hadn't tried the Mega Effects Liquid Eye Liner yet, I knew I had to rectify this immediately!
Though I'm not a huge eyeliner person with my everyday makeup looks, finding a great black eyeliner for my stage makeup is an absolute must! Does Mega Effects rise to the challenge, or is it simply a dud? There was only one way to find out! 
Keep reading to see what happened when I tried this Avon liquid eyeliner out for the very first time. But first, a bit of background on the product itself . . . 
What is the Mega Effects Liquid Eye Liner?
UPDATE: Mega Effects Liquid Eye Liner was discontinued on June 8, 2021.
The Mega Effects Liquid Eye Liner is a black, liquid pen eyeliner product by Avon.
One of two liquid liners in Avon's current lineup, Mega Effects features a unique 2-in-1 calligraphy style design for precise application.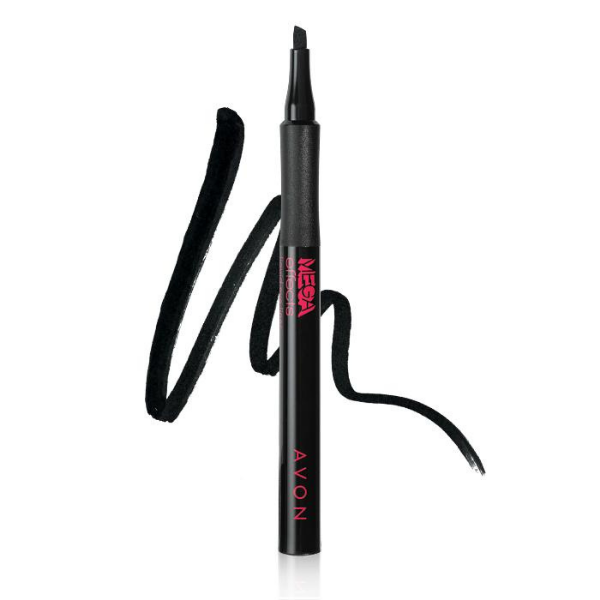 Advertised benefits include:
➤ Water resistant
➤ Sweat-proof
➤ Slant tip applicator
➤ Ergonomic grip
➤ Quick drying formula
➤ Liquid formula delivers intense color
➤ 2-in-1 tip can be applied close to lash line
➤ Calligraphy style pen
➤ All day wear
➤ Wont smudge, smear, fade or run
GET YOUR EXCLUSIVE COUPON!
Subscribe to my email newsletter, and save money on your online Avon order! You'll get access to an exclusive coupon code just for my new subscribers (U.S. only). Get to the sign up page using this button:
My experience with Mega Effects
Press play below to see what happened when I tried this eyeliner out!
I found this liner to be pretty easy to apply. The slanted tip went a long way in helping me get more precise lines, and also saving me time with my dramatic cat eye. I used the thick edge to get a nice solid block in the middle, and the thin tip to craft the outer wing and inner corner. I'm not sure how much the ergonomic grip factored into the ease-of-use. However, I do know that it took me less time than usual to create this winged stage makeup look. 
One thing that made application tricky was the fact that the liner would grip a bit on my eyelid. I wish the formula was a bit smoother.
This eyeliner looks amazing once it's on! The color payoff is super dark and bold compared to other liners I've tried. I also appreciated that there wasn't any mixing happening with my eyeliner and eyeshadow. Nothing is more annoying than when you're trying to create a bold line and end up with specks of brown powder amongst the black. Mega Effects simply creates a solid line.
This liner's staying power was pretty impressive! It really did stay all day, until around 10pm when I removed all my makeup. I even worked out with full sweat, but my liquid line remained solid.
The only thing to watch out for is accidental wiping. As you can see in the video, the eyeliner lost some of its solid finish when I rubbed my eye with a tissue. Although it didn't smear or ruin the edge, I definitely would want to reapply at that point if I was going out in public. The color payoff just wasn't the same after that smudge test.
Overall, I'm pretty happy with Mega Effects. So happy, in fact, that I plan on switching from the product I've been using for the past couple years – the True Color SuperExtend Precise Liquid Pen. I personally think that the Mega Effects Liquid Eye Liner will serve me better with my stage makeup looks.
What do you think? Which Avon liquid eyeliner is your favorite? Let us know in the comments!
GET YOUR EXCLUSIVE COUPON!
Subscribe to my email newsletter, and save money on your online Avon order! You'll get access to an exclusive coupon code just for my new subscribers (U.S. only). Get to the sign up page using this button: