Are you on the hunt for a new foundation? I definitely was! With upcoming performances on the schedule, I took a look and realized that my previous stage makeup was just not cutting it. My "cream to powder" foundation looked like plain ol' "cream" on my shiny, uncooperative skin. I needed something new! It seems like it was only a few days after this realization that Avon announced their new Magix Wand Foundation Stick. Talk about timing!
Could the Magix Wand be the next foundation of my dreams? There was only one way to find out! Let's see how it went when I put this product to the test. But first, a little background . . .
What is the MagiX Wand Foundation Stick?
The Magix Wand Foundation Stick is a full coverage, demi-matte foundation stick launching on September 4th, 2019. It's versatile, and can also be used for concealing, contouring, highlighting or touch-ups.
Like the other products in the MagiX line, this foundation is completely vegan!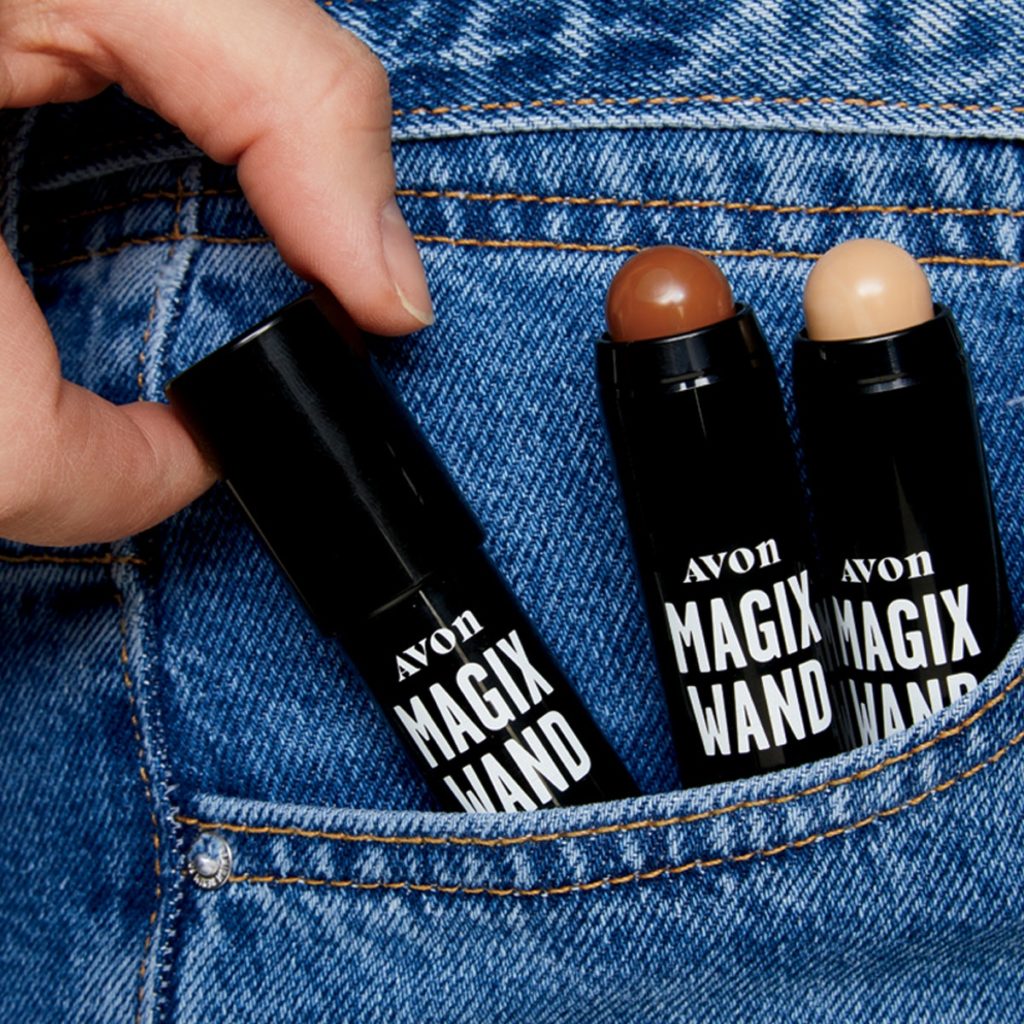 Advertised benefits include:
➤ Helps control oil and shine for all-day freshness
➤ Water-resistant, crease-proof and never cakey
➤ Buildable sheer-to-full coverage
➤ TSA-friendly
➤ Oil-free
➤ paraben-free
➤ sulfate-free
➤ phthalate-free
➤ Visibly smooths and evens texture
➤ Blurs the look of pores and wrinkles
➤ Shea butter and vitamin E moisturize and provide antioxidant protection
➤ Hypoallergenic; dermatologist- and allergy-tested
GET YOUR EXCLUSIVE COUPON!
Subscribe to my email newsletter, and save money on your online Avon order! You'll get access to an exclusive coupon code just for my new subscribers (U.S. only). Get to the sign up page using this button:
What are the different shades of MagiX Wand?
MagiX Wand is available in 16 shades including Meringue, Marshmallow, Coconut, Vanilla, Macadamia, Chai, Toasty, Cappuccino, Tiramisu, Praline, Amaretto, Latte, Hazelnut, Cognac, Pecan, Truffle.
I tried out the Magix Wand Foundation Stick in the color "Coconut". Coconut turned out to be the perfect color for me, which to be honest was a bit surprising! I usually find Avon foundations and powders very difficult to color match based on the printed swatches.
Click the above video to see the wand in action!
The Magix Wand is very easy to apply. As with any foundation stick, it is designed to rub directly on the skin, and then blend. I really appreciated the precision of this method.
The first time (as shown in the video), I used my fingers to blend. I noticed that the consistency is a bit dry, but with a little extra hand pressure I was able to successfully blend it until I achieved a beautiful, even finish. The second time, I used a slightly dampened makeup sponge to apply. As I expected, the product blended a little bit easier with that method.
The finish of this foundation is demi-matte. I personally was really happy with the way the finish looked, even with the minimal layer I applied. I think to truly cover all my blemishes, I would need 1-2 more layers than I applied in the above video. Luckily, the MagiX Wand makes it very easy to build on your coverage. Since I prefer a more natural look, I will likely only apply more than one layer when I am preparing for a dance performance.
One thing that really impressed me about the Magix Wand is the oil control. This product is advertised to help "control oil and shine for all-day freshness". Boy, did it deliver! I still had to apply pressed powder (as I usually do). However, I found that I needed much less of it to get rid of the shine in my face. What's more – I didn't even have to touch up my powder throughout the day! This was pretty huge for me, given my oil-sensitive face.
Overall, I've found that this is the ideal foundation to add to my stage makeup bag. I tried really hard to think of a few downsides to balance out this article – but honestly, the MagiX Wand exceeded my expectations. It's the first foundation I've ever worn that makes me feel confident all day, without constantly checking my face for shine.
As mentioned above, the MagiX Wand helped control the oil in my face, which will be especially helpful when I start sweating. The fact that it's a foundation stick is also extremely convenient. I can bring the tube anywhere without worrying about spillage – even on the airplane! World, here I come!
GET YOUR EXCLUSIVE COUPON!
Subscribe to my email newsletter, and save money on your online Avon order! You'll get access to an exclusive coupon code just for my new subscribers (U.S. only). Get to the sign up page using this button: